Male grooming was something of a dirty word not so very long ago. Now it's a booming multi-billion dollar industry. The modern man is spending more time and money on his appearance than ever before and it doesn't stop south of the head.
A hairy chest used to be a symbol of virility – and it still is, to an extent – but when that hair gets too long, unruly and begins to sprout up in places it shouldn't, the fine line that separates Ape from Gentleman can quickly become blurred.
That's why a body hair trimmer is such a vital piece of kit. It'll keep torso foliage in check, rid you of unsightly stragglers and even take care of pruning below the belt too. Well, provided you buy a decent one that is. Because make no mistake, taking an electric cutting device you don't have total confidence in anywhere near your nether regions is, to put it mildly, not a great idea.
Below you'll find our handpicked selection of the best body groomers on the market and the answers to a few of the most common trimmer-related questions.
Do You Really Need A Body Hair Trimmer?
Short answer: yes you do. Keeping body hair trimmed and tidy isn't just about how it looks, it's also far more hygienic. We're not saying you need to take every last hair off so that you're smoother than a dolphin; more that it's good practise to do a spot of considered manscaping now and then. If you've ever tried to use scissors to do that, you'll know why a purpose-built body groomer is such a worthy investment.
Why Can't You Just Use Your Beard Trimmer?
You certainly could, but do you really want to? Using the same tool to trim both your facial hair and your undercarriage poses an obvious hygiene issue.
We're sure we don't need to spell it out for you but suffice to say it's better to have a separate trimmer. At the very least, different attachments for face and, well, everything else.
What To Look For In A Body Hair Trimmer
First and foremost, you'll want to look for something that has some sort of cutting guard. The last thing you want is to catch any skin. Some trimmers have built-in tech that enables them to glide over uneven skin smoothly but with others its a case of using guards of different lengths to move the blade further away from the surface.
These guards are something else it's worth looking out for. They enable you to trim while leaving a certain amount of stubble behind. Handy for all-over body hair maintenance and tackling excess fuzz without banishing it entirely.
Last but not least, a degree of waterproofness is a bonus. The shower is probably the most practical place to do your body grooming so it makes sense to have something you can use in there.
The Best Body Trimmers For Men
There is a dizzying selection of body groomers out there and finding a good one can be tricky. Particularly as they're not the sort of things you can try before you buy. In order to give you a nudge in the right direction, we've rounded up the best ones available to buy right now.
Philips OneBlade
On first inspection, Philips' OneBlade doesn't look much different to a regular razor, but that all changes at the push of a button. The two-way blade glides effortlessly through thick hair and follows contours to eliminate razor burn. The cutting heads are replaceable too, meaning you could have one for your face and one for your body if you wanted to. Plus, there's a detachable skin guard for peace of mind when venturing into delicate areas.
It's not too expensive either, making it a solid option for anyone looking for a great do-it-all body hair trimmer on a budget.
Meridian The Trimmer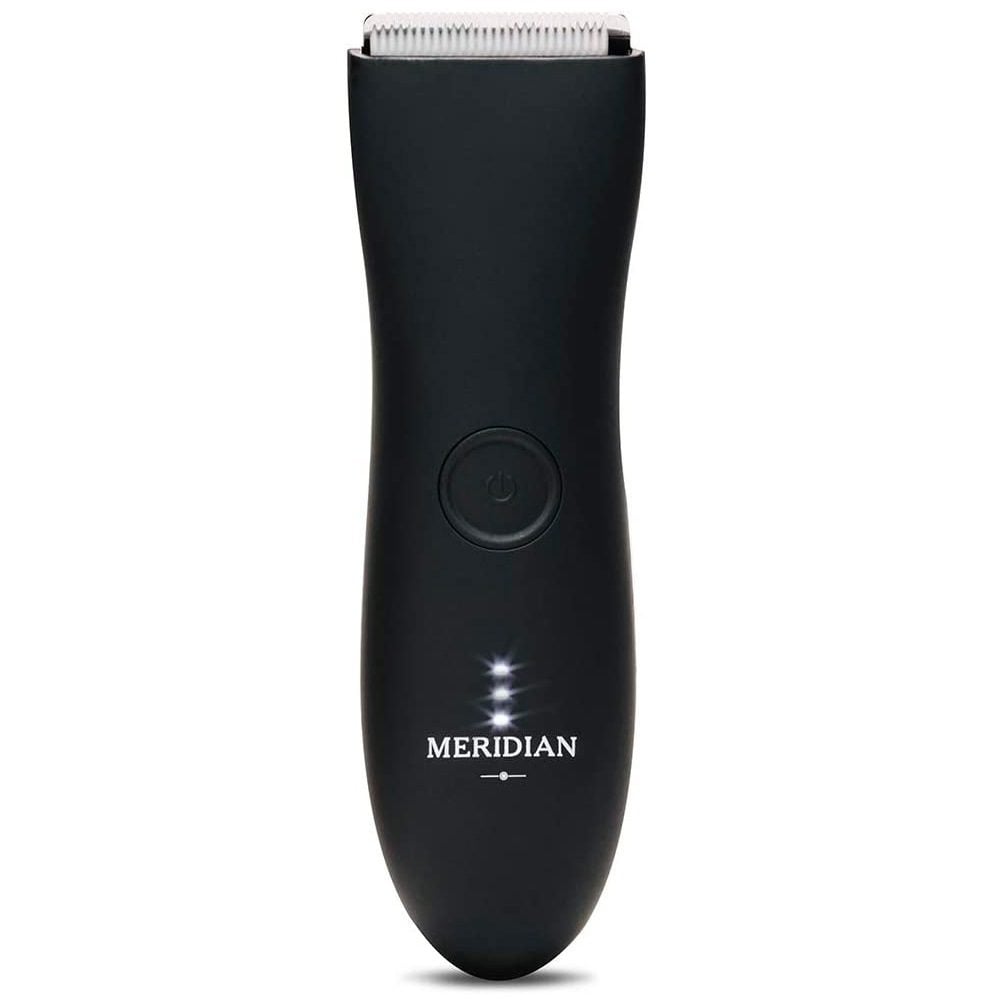 Simplicity is the name of the game with this fuss-free trimmer from Meridian Grooming. It doesn't have any gimmicks or complex features, it's just a solid, powerful shaver that's been designed specifically for tackling coarse body hair.
Ceramic blades ensure a smooth snag-free shave and there is an in-built charging indicator so you have a bit of warning when the battery is on its last legs. It also has two built-in guide combs and is 100% waterproof.
Remington Delicates & Body Hair Trimmer BHT250
This versatile package from Remington has everything you need for head-to-toe grooming. It comes with three fixed combs between 2mm-6mm, has comfort tip rounded blades to prevent nicks and cuts (always nice), can be used in the shower and has a washout port for easy cleaning and to help keep it hygienic. You'll also get 60 minutes of cutting time out of a single charge, so even the most hirsute men won't run out of juice halfway through.
Philips Bodygroomer Series 3000
For those in search of a fuss-free trimmer at a good price from a trusted brand, this one ticks all the boxes. It's showerproof, gentle enough for use in, erm, sensitive areas and has hypoallergenic foil on the cutting head to prevent irritation.
There's no confusion when it comes to attachments either. In fact, there's just the one – a 3mm comb to leave you with the perfect amount of stubble. It's easy to clean too: give it a rinse under the tap and you're good to go for next time.
Manscaped Lawnmower 3.0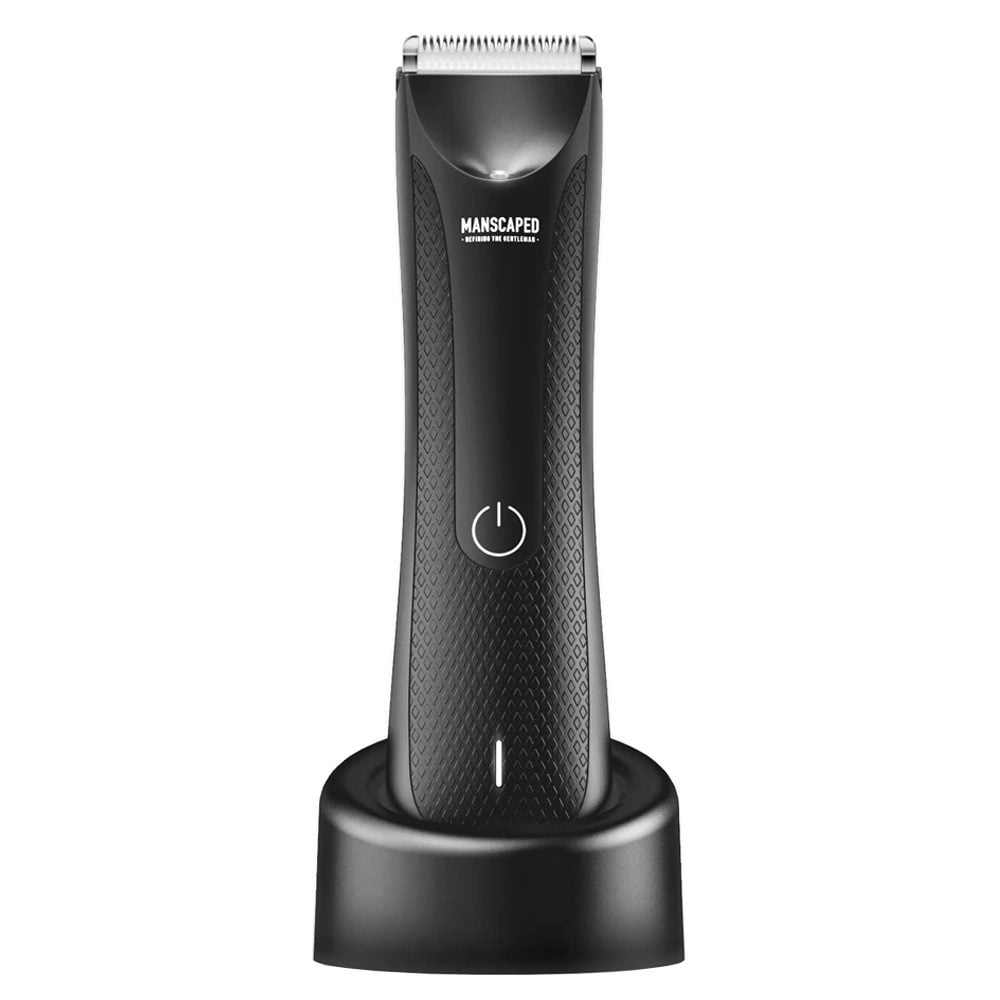 Manscaped is another brand specialising in below-the-belt grooming and the Lawnmower 3.0 is its flagship trimmer. This handy piece of purpose-built kit is fully waterproof, has a no-slip grip and even uses an LED light for full confidence when venturing into dark crevices.
There's also a subscription element called the Peak Hygiene Plan which gives the option for fresh blades being delivered for $14.99 every three months. Perhaps best of all, though, Manscaped has partnered with the Testicular Cancer Society to help raise awareness and encourage men to give their balls a check once a month. Something we could all do with remembering.
Braun MGK5280
This all-singing, all-dancing trimmer from Braun is packed full of techy features to give you the best possible shave. The motor automatically adjusts cutting speed depending on the thickness of the hair and it's completely waterproof for shaving in the shower.
There's a Gillette Fusion ProGlide razor included too, in case you need to do any finishing touches, but the best thing about this body groomer is the battery life. Fully charged, it provides 100 minutes of runtime but it is also able to give you enough for a single shave off just five minutes of charge.
Balls Trimmer
The Balls Trimmer pretty much does exactly what it says on the tin. It's specially designed for shearing pubic hair and, as such, cuts at a powerful 6,000 rpm to float through even the unruliest of bush. It's showerproof too, which means tidying up doesn't have to be a drag and the SackSafe technology (their words, not ours) means you can trim away without the worry of nicking your bits.
If you want, you can also sign up to the subscription service which will see fresh blades delivered to your door as and when you need them.